My top ten includes needs and wants for any farm girl.  I am always on the hunt for cool things that make my life better (fitness, food, style, etc.).  Life is too short to not have FUN, cute, and TRENDY items in it!  With that being said, here is my top ten must haves (and wants):
1. Anything Pioneer Woman (I mean ANYTHING)
Let's face it, Ree is one awesome farm girl!  Anyone who has this written at the top of their website has my support: "PLOWING THROUGH LIFE IN THE COUNTRY…ONE CALF NUT AT A TIME."  I started trying Ree's recipes years ago and just love the style of cooking because I am a farm girl just like her!  Then, she comes up with an amazing line of cookware, kitchen utensils, dinnerware, and more!  I just love, love anything she does!  Check her out here: http://thepioneerwoman.com/
2. Holy Cow Couture Bag
I ran across Holy Cow Couture not too long ago and am still BEGGING for my first bag!  Just check out the quality cowhide and leather products this small company cranks out!  Something about Oklahoma…that is where my cowhide rug came from and let me tell you they know leather and hide in that part of the country!  Enough jibber jabber…check out these awesome bags…http://www.holycowcouture.com/   PS- They do 6pm Facebook sales…make sure you like them on Facebook!  Also- if you are wondering what to get me for my birthday or Christmas (or my anniversary, *cough*cough* Ryan)- I would LOVE a designer bag!
Designer Bag
3. Steel Cow
I feel like I know Valerie Miller (artist) personally because I connect with her so much through her artwork but in reality I have never met her!  I cannot remember how I came across Steel Cow but I have been forever changed since then!  I appreciate good artwork when I see it.  I love the portraits of cows and the "personalities" Valerie gives the "girls".  My husband surprised me with my first canvas and then my sister surprised me with a t-shirt and hand towel from the Missouri State Fair!  Visit her website here: http://www.steelcow.com/
I have Linda (because I LOVE Herefords):
4. Fitbit
Us farm girls are ACTIVE!  What better way to keep up with our daily activities and exercise than with a fitbit.  My husband surprised me with a fitbit about a week ago and when would you guess I log the most steps?  At the farm of course!  Not only does it log your steps, but you can get a Fitbit that checks your heart rate, tells you how many miles you logged, calories burned, and more!  The other fun feature is that you can enter contests with other fitbit users for extra motivation to stay fit!  I have the Charge HR and just love it!  Check out all the different fitbit options: https://www.fitbit.com/
5. Birchbox
There are a lot of different box subscriptions out there and a friend of mine has been a Birchbox subscriber for years, so I decided to give it a go.  I absolutely love the element of surprise and getting mail lol!  Also, this box is only $10/month and they do not charge you the entire year (or 3 months, 6 months, etc.) up front.  You are only charged $10 each month and you can unsubscribe at any time.  If you are anything like me, I do not like to spend a lot of money on beauty products that I do not know well.  Birchbox allows you to try out samples and if you like it you can earn points to shop in the store.  So many cool things to mention them all…try Birchbox today: https://www.birchbox.com/invite/2p235
6. Yeti Rambler Tumbler
Yeti is all the rage right now and for a good reason.  Their products are no joke!  My husband just recently accepted a new job where he would be out in the field more and he really wanted a Yeti cup.  I thought to myself, that is a lot of money for a cup, no way would I ever pay that!  Then, I did for him as a gift for getting a new job!  I am so glad I did because he loves it and it is amazing how well the technology works to keep liquid cold or hot ALL DAY.  Shhh…I sneak it away from him sometimes.  I need to get my own for sure because I am out on the farm all day and a water bottle gets hot, even small coolers do not last all day like Yeti products do.
7. Hair Bands (and lots of them)
As a farm girl, my hair is either in a hat or held back somehow with a hair band.  I do not need it getting in my face while I am outside working!  Some girls are all outside with their hair fixed pretty and their daisy dukes on, but not me…I know I don't look like a million bucks when I am working and that is okay- I still like to be stylish though.  My favorite head bands are Under Armour and hair bands are Made by Trina.  Made by Trina was featured on the Pioneer Woman…so naturally I had to check her out- ordered some hair bands for me and my sister.  Not only are they great for your hair, but they look cute as bracelets too! 🙂
8. Monogrammed Something!
Who doesn't love monogramming?  Okay, maybe it is a Southern thing, and I haven't always been into it but I sure do love a good monogrammed bag or shirt now!  Simple, chic, and classy look that I think is timeless.  I had a sweatshirt done over the Winter by Southern Monograms and More that is super cute, goes with anything, and comfy!  I also sell Thirty-One, so naturally I have a lot of it!  Thirty-One offers personalization on a variety of products such as totes, purses, pillows, accessories, and more!  You can visit my online store here: https://www.mythirtyone.com/laurenblangley
9. Cowgirl Tuff Jeans
Every farm girl needs good, reliable jeans!  I have found that with the Cowgirl Tuff Company.  The jeans are stylish and hold up well when riding horses, working cattle, or other chores around the farm.  Most western clothing stores carry the brand so they are not hard to find, or you can order them online.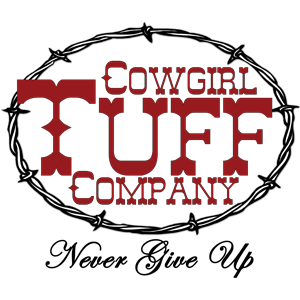 10. Thorlo Boot Socks
I wear boots, A LOT.  In doing so, I need a taller, padded sock that helps keep my feet comfortable, dry, and does not allow the boot to rub my leg.  Some people like to wear footy socks with their cowboy boots…but I think they are crazy lol.  I discovered Thorlos MANY years back when my family was at a horse auction and they auctioned off a whole bunch of these socks.  We all started wearing them and became hooked.  You can typically find them in western stores or sock stores.  I just cannot say enough good things about these socks…they will change your feet in boots.